We welcome you to our modern digital dental office:

| | |
| --- | --- |
| | Computer-based electronic medical record system |
| | All-digital x-rays, means less wasted time taking x-rays and no need to develop film. That means a more efficient dental appointment for our patients and their busy schedules. |
| | Professional periodic teeth cleaning and exam. |
| | Scaling and Root Planing (Deep Cleaning) |
| | Mercury-free tooth colored fillings and restorations |
| | Crown and Bridges |
| | Partial and Complete Dentures |
| | Root Canal Treatment |
| | Oral Cancer Screening |
| | Convenient weekday and Saturday appointments available to fit your busy life |

Dental Implant

Sedation Dentistry

Dentistry for Children

Oral Surgery and Wisdom Teeth

ClearCorrect (Invisible) Orthodontics
What are Dental Implants?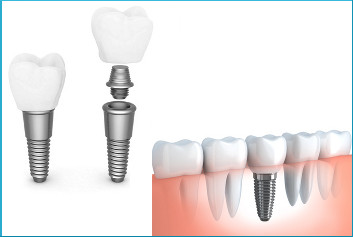 Dental implants are a method of replacing one or more missing teeth, involving surgical placement of a titanium screw-like implant into the upper or lower jaw. This implant is then used to anchor an attachment (abutment) onto which a crown or denture (teeth replacement) can be placed.
What is the advantage of Dental Implants over traditional dental prostheses (bridges, dentures, etc)?
When one or two missing teeth need to be replaced, a bridge may require cutting the nearby teeth to support the prosthesis. However, with dental implants, the nearby teeth do not need to be cut, since the implant is placed into the jaw bone to support the replacement crown. Also, when individual implants are used to replace missing teeth, they re-create the most "natural" tooth-like replacement – you can brush and floss between the implant crown just like a real tooth!

What are "Implant Dentures" (Dental Implant Retained or Supported Dentures)?
Perhaps the biggest problem or complaint long-term denture wearing patients have is that their dentures are loose or don't fit well. As a result, they are unable to chew effectively and lack confidence when going out with their friends and family. Dental implants can be placed into the jaws, onto which a denture can be secured. The result is a more stable and better retained denture. The difference can be night and day for a patient who has lived a significant part of their life with the fear that their denture may come loose in public.

If you have one or more missing teeth and are wondering about

the best way to restore your smile

, call today to schedule a

free consultation for dental implants


Sedation Dentistry
At 1st Care Dental, we understand that visiting the dentist for treatment can sometimes be a stressful experience. However, we also believe that seeing your dentist for treatment does not have to cause anxiety and that the valuable time you spend with us receiving dental care
can be a
relaxing experience
.
We offer
sedation dentistry
, including intravenous sedation, which allows patients to experience a
feeling of sleepiness and relaxation
throughout their dental appointment. During the sedation process, the patient is
carefully monitored using state-of-the-art equipment
to ensure a
safe and controlled treatment environment
. At the end of treatment, the patient is also closely monitored until he or she has met strict criteria for discharge prior to being escorted home with a responsible adult.
If you have been avoiding dental treatment due to anxiety about seeing the dentist, call today to schedule your treatment with sedation



Dentistry for Children


We take great pride in caring for our young patients, from their very first dental visit through the rest of their formative years. It is important for children to have a healthy mouth, since dental problems are often causes for missed school, due to pain and infection. Moreover, a healthy smile can be the foundation for good self-esteem -- helping young adults excel in life.

Making regular dental visits for check-ups and cleanings can help us identify any problems early on, to prevent major problems down the road.

We are often told by new adult patients that they have been "avoiding the dentist" most of their lives due to "bad experiences as a child at the dentist's office." We strive to provide our young patients a positive, reinforcing experience that can build a lifelong habit of good oral hygiene and regular dental care, for a smile that lasts a lifetime.

We accomplish this with patience and understanding, and by not trying to do too many procedures in one appointment. In most cases, a parent or guardian is welcome to observe in the treatment area. We never use a papoose board, nor do we force young patients in the chair to complete dental treatment. When appropriate, we refer our more challenging young patients to a pediatric dental specialist.

We are a dental provider for both Medicaid and Texas CHIPs (Children's Health Insurance Program)


Oral Surgery and Wisdom Teeth

We have an Oral & Maxillofacial Surgeon on staff to provide oral surgery procedures ranging from simple to complex tooth extractions, including wisdom teeth. We also provide bone grafting to maintain or build up bone in the jaws, to treat periodontal (gum) problems or in preparation for dental implant placement.

Wisdom teeth are the third molars, which often are unable to grow into a normal position (impacted) due to lack of space in the upper and lower jaws. As a result, they can develop cavities and become infected, resulting in facial swelling, difficulty eating and significant jaw pain.

The ideal time to have wisdom teeth removed is between the late teenage years to early twenties, since the teeth may not yet be fully developed and patients tend to recover faster with less problems. We can best evaluate your wisdom teeth using a panoramic radiograph that shows all of the upper and lower jaws, to determine if your wisdom teeth need to be removed to prevent future problems.

For patients who are anxious about oral surgery, we provide several sedation options, including moderate oral sedation and deep intravenous (IV) sedation.

ClearCorrect (Invisible) Orthodontics


Looking for an alternative to metal braces?



ClearCorrect

is the clear and simple choice. No wires. No brackets. Just clear, convenient comfort—every reason to smile.

With

ClearCorrect

, your dentist or orthodontist can straighten your teeth using a series of clear, custom, removable aligners. Each aligner moves your teeth just a little bit at a time until you eventually get straight teeth.



How does it work?


You and your doctor will evaluate your teeth and talk about any problems or goals you have for your smile. Once you and your doctor establish

ClearCorrect

is the right treatment option for you, your doctor will take impressions, photos, and x-rays of your teeth that

ClearCorrect

uses in manufacturing your custom aligners. Then your doctor writes a prescription for your custom aligners and sends it to

ClearCorrect

.

What can it do?


ClearCorrect

can treat a wide variety of issues that keep people from achieving their ideal smiles. Straighter teeth don't just look better; they work better too. Poorly-aligned teeth can interfere with bite function, wear out quicker, and are more prone to cavities. Ask your doctor how

ClearCorrect

can help you.
Great for teenagers and adults who want to improve their smile!